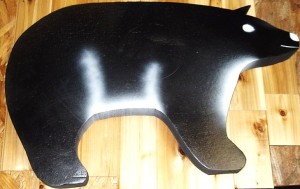 Bear target with kill zone for the back yard or to put into the woods. Just stake or use light wire and wire them to a tree or bush.Self sealing and they really can take a pounding.
When ordered we can ship multiple targets in 1 package(depending on how many and sizes).This is for 1 bear target only. You must provide your own stake or wire. You will get a target similar to the one shown.Size is approx. 28″ wide x16 1/2″tall.
These are done by hand and may not be perfect, but they are affordable and a lot of fun. You can set up a nice range without going broke! Any target over $20.00 or larger order of targets please email zip code for shipping charges no matter what the checkout calculates. We only charge actual shipping charges plus insurance on all orders.